3 tandems, 7 Members, 45 riders
By Ben Miller
Day 1
Those of you that have any experience of organised bike riding, and even more so, disorganised bike riding, will be aware that riding the bikes is typically the second most time consuming activity, after faffing around with bikes and bike equipment. In fact, I believe the correct ratio of faffing time to bike riding is 1:1. This includes faffing in advance of getting the bikes out (How many layers should I wear? Do I need my rain jacket? -Yes you're in Wales, Where did I leave my water bottle? Is there time for me to go to the loo? Do you think I need long sleeves? …), faffing once the bikes are ready to go (where it is mandatory that mechanical issues are only identified seconds before the ride is about to set off and delay us 30 minutes – today, our tandem had a seriously warped middle chainring, fixed by judicious application of a hammer), and further faffing on the route, and when pausing for and restarting after food breaks.
You'll be pleased to know that in true Langdon style we lived up to all faffing expectations, but the Saddle Skedaddle team who have organised the last half-dozen of these rides has gotten used to us, so it almost seems like the faffing was planned into the schedule.
This afternoon was a pleasant start with 42km of riding and 473m metres of ascent (only 0.6x Burj Khalifasbut almost 1.5x Shards). I was riding with Ted who was extremely strong. We got round in two hours, including a snack break, and arrived in time to watch Wales lose in Euro 2020, but still qualify for the next round. Marc Nadler, another of the Langdon Members who is a regular on these rides made it round in similar time, and was extraordinarily strong, having seriously improved from the last time he rode. Big thanks to Simon Lester who supported Ted and me throughout the day and Clive Nathan who rode with Marc. And it's important to note that Clive, Marc and Simon were all sporting bright orange outfits. (Simon is the face in the front taking the selfie.)
You can see on the left-hand side our youngest rider, Hadley in purple (or is it Maroon?) who is 14 and the son of Dan, our leader and organiser who is on the far right, also sporting bright orange. Next to Hadley, you can see Geoffrey in yellow, our oldest rider and his daughter Karyn. His granddaughter, Charlie is the pink helmet poking in on the left-hand side, you'll get a full picture another time! And just in front of Ted is Ben, son of Nigel also riding with us, so lots of families involved. (There are at least two other families I haven't mentioned, material for a future blog.)
Butch also did a great job on the back of the tandem with Lee. Zoe had, I believe, her longest ride ever with Dieter. Joel on a single bike was also strong. Congrats to everyone and thanks to all of the support riders.
If you are paying attention, you'll see I am wearing very similar kit today to the clothing I cycled to Wales in. I can assure you that I have more than one set of the same kit or that I washed it thoroughly. You can choose to believe whichever of those you prefer.
We had a quiet evening, where the most interesting moment was the shirts provided to each of our members and you can see the whole team with initial/names. (Thanks go to Mark Pollack.)
From left to right, it is Ari, Joel, James, Marc B (Butch), Ted and then Mark N and Zoe at the front.
Day 2
Today's cycling took us from the extremely beautiful Usk Valley to the equally beautiful Wye Valley, which is the border between England and Wales for a significant part of today's ride. And it lends itself to lots of puns, which work much better when you don't have to write down the words and spell them! ("Wye?" I hear you Usk. "Yes, that's right." I reply. See Who's on First.)
We had some conflict of ascent today. The route posted in the official WhatsApp channel showed 762m of climbing. My Garmin representation of the same route claimed 626m. After the ride, Clive, who did a fantastic job on the tandem with Zoe today, was seeing 808m of climbing, and my Garmin said we did 971m. WTF you might be thinking? (If in fact you are thinking "why does it matter?" you are not a cyclist – it is almost all that matters.) I'm perfectly happy to claim 971m (>3x Shards, >1x Burj Khalifa), BUT… the tricky bit is on the ride. When you think there are 762m of climbing and you've done almost 750, you are expecting a nice gentle end to the ride, not an additional >200m. It's tricky to know where to point the blame on this as we are all using the same devices, accessing the same maps and the same details. But something is going awry… (And if you're wondering, the ride to Wales on Saturday was ~3x Burj Khalifas.)
To add insult to the ascent injury, we had a pretty consistent northerly wind. This is fine when heading south (yes, a northerly wind blows from the north towards the south), but much less fun when we were heading north as we did for about half of the ride. The invisible enemy. A hill in gaseous form. The unseen brake.
Our initial climb ended close to a small herd of llamas. Nigel is taking the photo and his son Ben is in yellow. Hopefully, by now you know which of the other two is me and which is Butch.
For unknown reasons, today was also punctuated by numerous roadworks and traffic lights. Stopping and restarting the tandem is particularly frustrating, so we were delicately trying to pace our approach to ensure the lights went green just in time. On this occasion, we did have to stop and wait and as we got going, we were briskly overtaken by a bright red and very noisy tractor.

Lunch was on the bank of the beautiful Wye, although everyone was huddling against the wind. Previously on these trips we have been treated to astonishing picnics put together by the Skedaddle team. You may recognise just how impressive they were when I point out that in general 35 middle-aged and difficult-to-please Jewish cyclists were normally very impressed by the quality of the luncheon! Unfortunately, Covid limitations mean we have to have pre-ordered, preprepared sandwiches. My smoked salmon and cucumber club style triple sandwich was perfectly serviceable.

There are always a few special mentions and in typical style they are for our members. Today, Ariella rode 48km. Zoe, on the tandem with Clive, did the same 48km, the longest she has ever ridden. Joel completed the entire 87km. Marc did the tough part – climbing the big hills. Ted and Butch helped Lee and me get round (Lee and Ted were superfast). James Manton, one of our most consistent Members on these rides, is with us, but unfortunately unable to take to the bike. He has been a fantastic support to everyone. Well done everyone today, and extra special thanks to all of those who were helping out. One of the special parts of these rides is that everyone takes their turn in supporting the tandems and Members on single bikes.
(There were a lot of 'specials' in that paragraph. Tomorrow I will make a special effort to avoid being especially dependent on that special adjective.)
Day 3
Today's ride started with the typical undulating country lanes we've become used to, with a fair number of punchy 10% climbs, albeit only for a few hundred metres each time. We then had about 20km on a bike track – mostly disused railway (the rails/sleepers had been removed and replaced by paving in case you're wondering). For the most part this was lovely, although it was a fairly constant 3% climb. The "fun" parts were the sections through towns which involved footbridges, with multiple 90° turns on narrow paths, tunnels with more 90° turns and sharply rising exits, innumerable gates (no, they were not literally innumerable – pedants!), 12% descents to roads which we had to cross, followed by 12% climbs for a few yards, riding down steps (really – Butch jumped off for that part) and a variety of other chicanery (literally). Most of these obstacles were in fact quite well-designed for bikes – that is single bikes. Tandems rarely fit the standard pathways and more than once we had to lift the bike over the obstacles. That said, some of the views were fantastic, as you can see.
The photographer is Andrew Chaytow, one of our riders from Manchester, who was delightful company for Butch and me all day.
Once we had completed this climb, and had lunch in front of a beautiful lake – albeit shivering in the cold wind, we climbed a little more, spent a few kilometres on a fairly busy road and then, following another bridge or two, circled the hills with yet more beautiful views – you can see two of the three tandems and riders overlooking the valley – before heading down an absolute b****r of a descent.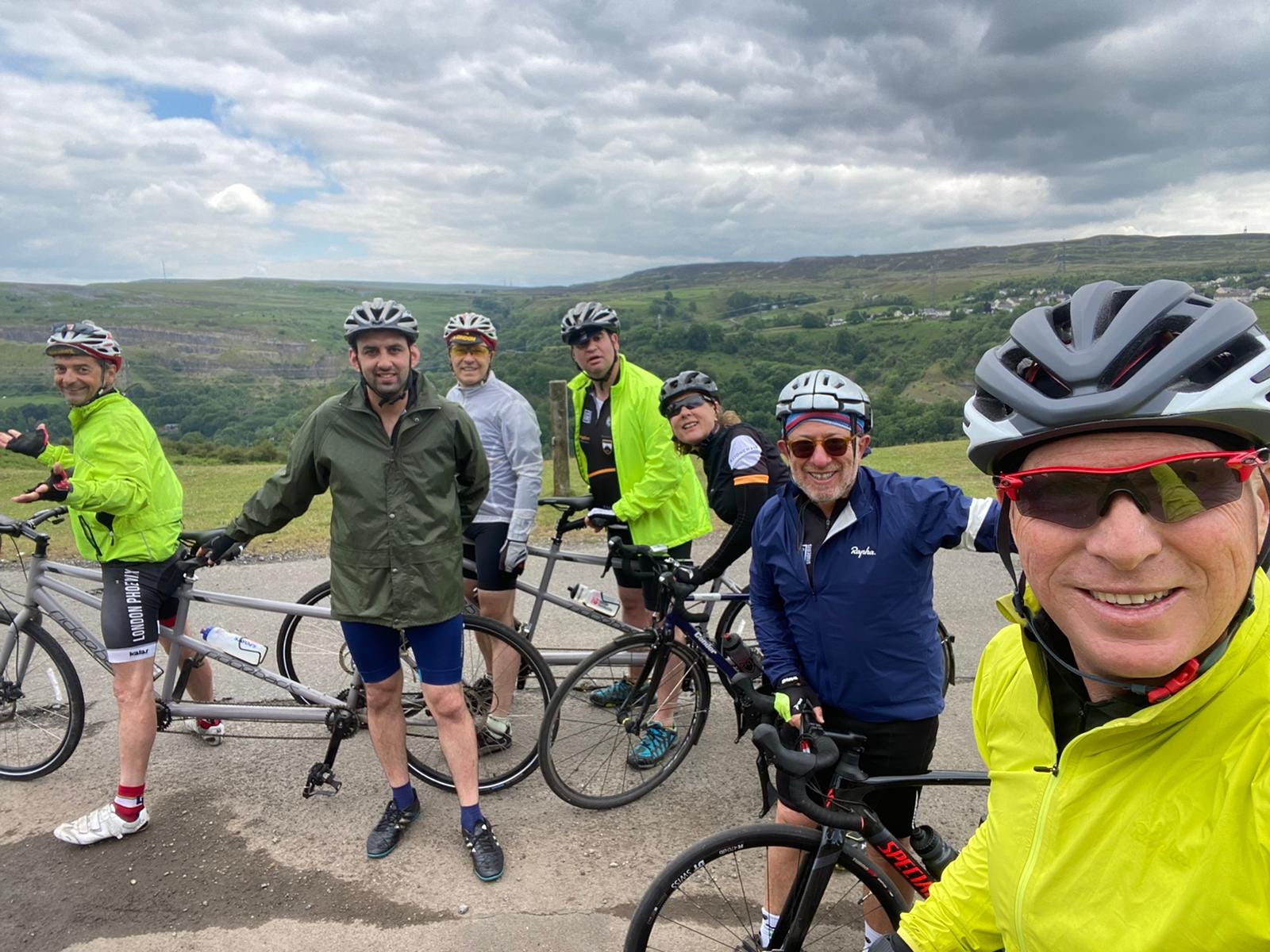 Other than Dieter and Ted, Butch and me and Andrew, you can also see Cat and Nick, two first-time riders. But back to that descent… I'd love to tell you exactly how steep it was, but I was far too busy clamping my hands to the brakes to keep us under control to pay any attention to any other details. A quick calculation after the event says that the total descent over 3 km averaged 8.5%, but chunks of it were considerably shallower, and I am therefore sure we were descending 12%+ sections at times. Maybe not, but it certainly felt that way. When you have two people and a very heavy tandem, with the inexorable pull of gravity, it's amazing how much work your hands and forearms do to keep the brakes sufficiently tight.
Once we had completed this descent, Zoe jumped on the third tandem with Lee, Ariella got on her bike and Marc set off too for another excellent ride from all of them. And Zoe and Lee managed to put so much power through the tandem that they snapped the chain! Really. Excellent work from the Skedaddle eyes got this quickly fixed and they were back on the way.
It is unfortunately the case that despite all of the care that we take, and that the professional team insist upon, accidents do happen in cycling. We had more than our fair share today with a couple of riders hitting the ground. No long-term harm done, but some nasty bruising and grazing.
The day ended, as I'm sure all of the English readers will be stunned to discover, watching the England – Czech Republic game in Euro 2020 (you'd think they'd have noticed that it is actually 2021), which, given England won, was a satisfying if low-key end to the day.
But wait, I hear you cry, what were the key statistics? I'm glad you asked, after all, this is everything that matters! 73 km ridden, just over 1x Burj Khalia climbed (almost 3x Shards) – 877m.
Lastly, if you haven't yet seen a picture of your loved one, friend or sponsee (is that a word?) in this blog, here you go…
Day 4 – the Final Day!
It is a truth, universally acknowledged, that a bicycle trip that raises a small fortune, must come to an end. And so did ours. We spent the final morning on the bikes, with a relatively brief spin of 40km with 400m (half a Burj Khalifa) of climbing. Butch deserves a special mention. He rode this morning, and therefore rode every single metre of this year's ride. Dieter was his partner again, and the picture shows them coming up the final hill, me giving a little push.
Those with an eye for cycling memorabilia, might recognise the vintage woollen cycling jersey I am wearing. Admittedly, it is not actually vintage, but relatively new in vintage style, but recently acquired and rather cool. Both literally and metaphorically.
We spent the final couple of hours milling around the hotel, drinking coffee, eating sandwiches and chatting – a large bunch of people who clearly didn't quite want to end the event, but knew they soon had to.
One thing I will add before signing off. A number of the riders are also employers of Langdon members, including several of the companies listed in yesterday's post. One or two folks expressed interest during the ride in doing similarly. And maybe your company or employer would be interested too? Every Langdon employer I have ever spoken to has emphasised that while they initially thought they were doing a favour for the organisation and for the Members, they quickly realised that there was a huge benefit to their own company in many positive ways. If your company is potentially able to employ a Langdon member, it will likely be one of the most rewarding things you will do. Langdon provides huge support from the first discussion all through the period of time that a Member is working with you. If a company you own or work for might be willing to consider this, please let me know! I can also introduce you to existing Langdon employers to understand their experience before you make any commitment.
If there is any significant additional news regards the fundraising achievements, I may issue an additional post in the next few days, otherwise, this is it for 2021.
Next year we will be in Rioja – which was originally the 2020 plan, and then the 2021 plan, and now, hopefully not to be deferred again, the 2022 plan.
To all the riders on the trip, thank you for your time and for helping raise such great funds. To everyone who rode, congratulations. To all the professional and volunteer staff who helped make it a success, thank you very much.
And to you, my readers, thank you for reading, thank you for commenting, and thank you for sponsoring.